Featured on NPR's "All Tech Considered", 12th March 2013
"I recommend it highly!" - Dave Caolo, TUAW July 26th 2010
Read Review
Updated Version 2.2.4 - August 4th 2012
Need help, or have questions? Click here for support.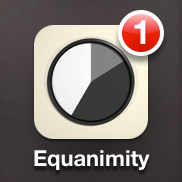 This elegant meditation timer times your sittings, provides a beautiful journal for sitting notes, and displays graphical tracking giving you clear feedback and reminders for your meditation practice. It's carefully designed to be the ideal companion for anyone who meditates.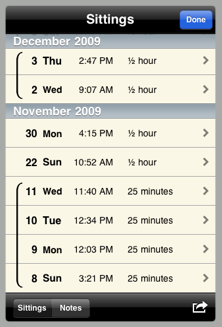 The journal is comparable in quality to many standalone note-taking apps. It allows you to optionally take notes after your sittings, and lets you browse through your meditation history as either a visually annotated log or textual journal. All of your recorded data can be exported - as a nicely formatted email that you can print, or as a table that you can load into a spreadsheet if you want. You can also email individual journal entries - useful for posting them on a blog.
Easy to read graphics let you know at a glance how regularly you are meditating, and how long your daily practice has been going. A chart illustrates your progress over the course of the year, and a bar graph shows the total number of hours you have meditated, and the application icon can optionally show daily reminders to sit or alert you if you've missed a sitting.
It's much easier to keep a routine going when you can see so clearly how you are doing.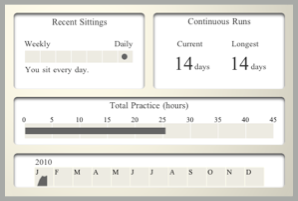 The timer shows time passing using clean graphics that allow you to see at a glance where you are within your sitting period without being unduly distracted.
If your meditation routine incorporates different stages within a single sitting, you can set chimes to ring at the appropriate points using straightforward controls.
Because the timer is intended to be used every day, the design provides a calm and clear experience without unnecessary clutter.
This application has helped me to make meditation a daily practice, and I hope it can do the same for you.
Features:
Icon Badge reminders - counts the days since you last sat. (iOS 4)
Works in background on devices that support multitasking.
Easily log meditations not timed using your iPhone (e.g. at a class or retreat etc).
Swipe to delete existing log entries.
Simple and inviting visual design
Clear visual illustration of elapsed time
Optional screen blanking to save power
Configurable sitting time
Optional interval chimes, either equally spaced or at fixed intervals
Configurable preparation time & cool down time
Tracks continuous runs of daily practice
Chart showing meditation levels across the year
Bar graph displaying total practice hours
Recent practice indicator showing how frequently you sit
Graceful handling of interruptions (e.g. SMS, Phone)
Pleasant gong tone
iPod music can play in background
Easy note entry after sittings
Log of individual sittings
Graphical connectors showing runs of sittings within list
Note preview list
Note editing
Export individual notes by email
Export all notes as a cleanly formatted readable document
Export complete log with notes as Excel compatible CSV
*Compatible with the iPhone and the 2nd generation iPod Touch.