Do you control your browser, or does it control you?
Modern websites are designed to be engaging and rewarding. They encourage you to keep coming back for more.
This is great when it means that the internet is becoming more useful in our lives, but sometimes it's a problem.
Do you ever find yourself 'checking' your favorite website many times a day to see if there's been an update? Or looking online for something you need, only to realize that you've been distracted by a news site and you don't know what happened to the last hour?
Mindful Browsing is free, but if you find it useful please consider donating to support development. Thanks!
Are there sites you'd rather not see because what you read antagonizes you?
With Mindful Browsing, you can block the websites that cause you these problems. Once blocked, if you try to visit one of these sites by following a link, clicking a bookmark, or typing the address, Mindful Browsing will show you a warning page reminding you that you blocked the site, and encouraging you to decide whether or not you really want to visit the site.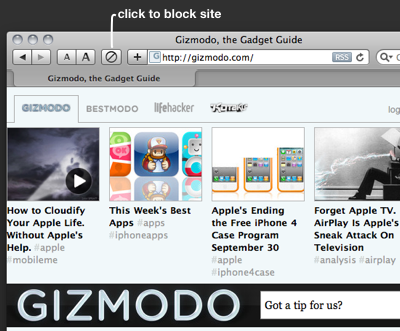 If you really do need to visit the site, you have the option to unblock the site temporarily just for that visit after a configurable delay. The site will automatically be blocked again after a few minutes.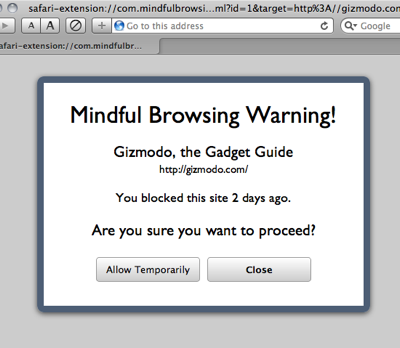 This is usually enough to let you make a conscious choice, rather keep acting out of habit. It puts you back in control.
Mindful Browsing is an extension for Safari 5.0 and above for Mac or Windows. Click 'Get it now!' to download it.